Optical Parallel
Optical Parallels are used for checking Flatness and Parallelism of Micrometer measuring faces. These are supplied as a set of four numbers with thickness increment of 0.125 mm (one fourth of the pitch of the Micrometer). Optical Parallels are made from Fused Silica/Fused Quartz material as the material has environmental durability, and a low coefficient of thermal / Linear expansion and as well resistant to abrasion.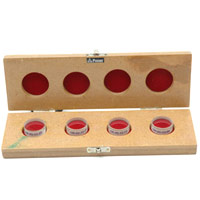 The parallels are manufactured to comply with the NPL (National Physical Laboratory) specification MOY/SCMI/54
Material : Fused Quartz
Accompanied by Flatness Inspection Report
Inspection in Laser Fizeau Interferometer
Reference Flat (»/20) traceable to NIST.
Evaluation of Flatness with Licensed Quick Fringe Software
Cosmetic Defects : According to US MIL Std
Supplied in Wooden Box
Specification:
Diameter : 30 mm +/- 0.15 mm
Flatness : 0.1 microns
Parallelism : 0.2 microns
Thickness Tolerance : +/- 0.01 mm.
| | |
| --- | --- |
| Part No | Thickness (mm) |
| OP-01 | 12.00, 12.12, 12.25, 12.37 |
| OP-02 | 25.00, 25.12, 25.25, 25.37 |