Prisms India offers Optical Flats in Optical Glass & Fused Quartz Material.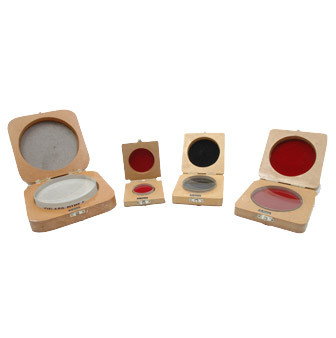 Optical Flat is used as a reference surface for the detection of inaccuracies of unknown flat surfaces that are polished. Optical Flats are used in Calibration labs for inspection of Micrometer Anvils & Mechanical Seals, Pump Valves and various other Automotive Parts manufacturers.
Fused Silica or a clear Fused Quartz is used in many applications as the material has environmental durability, a low coefficient of thermal / linear expansion and as well resistant to abrasion. Prisms India offers Flatness to »/4 (0.15µm), »/6 (0.10µm) amd »/10 (0.06µm) Flatness with Single & Double surface flatness.
Prisms India also offers Customized flats with holes or different shapes, sizes
Optical Flats in Optical Glass are available from Stock. Fused Quartz Optical Flats quote will be provided against specific enquiries.
Material : BK-7 Optical Glass / Fused Quartz
Accompanied by Flatness Inspection Report
Inspection in Laser Fizeau Interferometer
Reference Flat (»/20) traceable to NIST.
Evaluation of Flatness with Licensed Quick Fringe Software
Cosmetic Defects : According to US MIL Std
Supplied in Wooden Box
| | | | |
| --- | --- | --- | --- |
| Optical Glass | Fused Quartz | Diameter | Thickness |
| Part No. | Part No. | (mm) | (mm) |
| OF-30-BK-7 | OF-30-FQ | 30 | 10-12 |
| OF-50-BK-7 | OF-50-FQ | 50 | 12-15 |
| OF-75-BK-7 | OF-75-FQ | 75 | 15-20 |
| OF-100-BK-7 | OF-100-FQ | 100 | 20-25 |
| OF-125-BK-7 | OF-125-FQ | 125 | 25-28 |
| OF-150-BK-7 | OF-150-FQ | 150 | 30-32 |