An Autocollimator is for measurement of angular tilts whereas the Alignment Telescope is for establishing an accurate line of sight.
Alignment Autocollimator is a combination of Alignment Telescope and Autocollimator.

Autocollimator Mode
Where a collimated light beam is projected out of the Instrument and received back after the reflection from a mirror target.
Telescope Mode
Telescope mode where the lens position is altered to focus a cross line target located at different distances.
The advantage of this Instrument is to measure the angular tilts and the shift of centre location in one setting.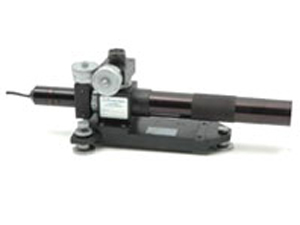 Application:
Bore straightness
Alignment of rolls in paper, metal, and plastic mills
Bearing run out
Checking parallelism of bearings in a gear box
Shaft alignments
Gear box evaluations
Specifications:
Alignment Autocollimator - Model AAC-01
| | |
| --- | --- |
| Focal Length: | 163 mm @ 0.5 m to 430 mm @ infinity |
| Clear Aperture: | 35 mm diameter |
| Eyepiece focal length: | 18 mm (Magnification: 14X) |
| Measurement Readout: | Dual Axis Graticule / Micrometer |
| Angular Range of Measurement: | +/-10 minutes |
| Resolution: | 1 arc sec (Micrometer), 20 arc sec (Graticule) |
| Accuracy: | 2 arc sec over 1 minute & 10 arc sec over full range |
| Line of sight accuracy: | 20/50 microns at the graticule/image plane |
Distances in Meters Shift in the Target position for 1 Div of Micrometer Shift in the Target position for 1 Div of Graticule
0.5
1
5
10
20
0.00437 mm
0.00889 mm
0.0475 mm
0.0959 mm
0.1928 mm
0.087 mm
0.177 mm
0.950 mm
1.919 mm
3.856 mm
Download PDF